DONATE TO PEOPLE EXPRESS
We are a registered charity 1158735.
Do you love the arts just as much as we do? Do you agree that arts and culture should be open and accessible for everyone to enjoy? Would you like to support our charity to continue our work?
By donating via our Give As You Live page you're helping to support us to continue working with communities across South Derbyshire and beyond, providing creative opportunities for people of all ages and abilities, who would otherwise not have access the arts.
There are several ways you can donate, so let us show you how...
DONATING THROUGH GIVE AS YOU LIVE
DONATE DIRECTLY WITH A ONE-OFF DONATION
Just click the button below to make a one-off donation to our charity via Give As You Live.

SET UP A DIRECT DEBIT TO MAKE A REGULAR CONTRIBUTION
You can also set up a recurring donation by Direct Debit to People Express if you'd like to donate a small, regular sum.


DONATE AS YOU SHOP WITH GIVE AS YOU LIVE
By creating an account on Give As You Live and choosing People Express as your chosen charity, you will be donating to our charity without it costing you a penny.  Just login to your Give As You Live account and then shop as normal on your favourite websites.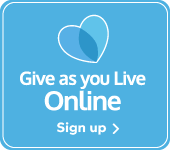 BUY A GIFT CARD
If you are looking for a gift but can't decide on what to give, Give As You Live now also offer gift cards at all of your favourite retail outlets, helping us at the same time by making a contribution at no extra cost to you. Two gifts for the price of one!